Route 10 (Japanese: 10ばんどうろ Route 10) is a route located in north-eastern Hora. It holds the honor of being the northernmost route of the region. It constantly snows here. It's western terminus is Osiana Town and it's eastern terminus is Crocus City.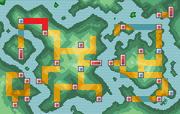 Route Description
Edit
Exiting Diadem City, one finds themselves entering Route 10, a in the middle of a huge blizzard, hampering visibility and the ability to run or ride bikes. An ice covered rock is located here that allows Eevee to evolve into Glaceon. This route is covered in snow with patches of tall grass growing, mostly near Ice Rock. The trees in this area are snow-covered pine trees. There's a medium-sized on this route where one can find Water-Pokémon. Furiijio is feared in this area.
Delibird
Sneasel
Vanipeti
Furiijio
Kumasyun
Tsunbear (uncommon)
Smoochum
Jynx (rare)
In the lake
Edit
Lapras (rare)
Shellder
Cloyster (uncommon)
Spheal
Seal
External Links
Edit
Ad blocker interference detected!
Wikia is a free-to-use site that makes money from advertising. We have a modified experience for viewers using ad blockers

Wikia is not accessible if you've made further modifications. Remove the custom ad blocker rule(s) and the page will load as expected.