Route 11 (Japanese: 11ばんどうろ Route 11) is the first water route that trainers generally encounter in the Hora Region. It also houses the Osiana Forest. It's northern terminus is at Osiana Town and it's southern terminus is at Route 12.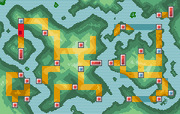 Route Description
Edit
After leaving Osiana Town, the Trainer comes across Route 11, which, like the past few routes they will have encountered, is snowing. The area is lined with pine trees and patches of white grass. The route itself is short, as the trainer enters Osiana Forest before long. After making it out of the forest, the trainer reaches the ocean, which they cannot cross without Surf. Making it through here places the Trainer on Route 12. Trainers can use Dive in the center of this Route to reach Pokémon not normally found on the surface. One of the Legendary guardians, Lugia, dwells in the waters of this route.
External Links
Edit
Ad blocker interference detected!
Wikia is a free-to-use site that makes money from advertising. We have a modified experience for viewers using ad blockers

Wikia is not accessible if you've made further modifications. Remove the custom ad blocker rule(s) and the page will load as expected.