Route 16 (Japanese: 16ばんどうろ Route 16) is the second water route trainer's typically encounter in Hora. It is located on the east side. It's northern terminus is at Telstar City, and it's eastern terminus is at Tuberose Town.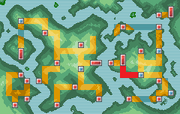 Route Description
Edit
Route 16 is constructed a bit like a fishing area. Trainers can pay to enter a fishing contest for

500, though there is a strange rumor that all people catch is Magikarp. From this area, the trainers can Surf, along a short water pathway, until they are able to get off their Pokémon. The water they pass through resembles a swamp. The area they come to this time is rather modernized, a paved road once again, but no automobiles seem to pass by.
External Links
Edit
Ad blocker interference detected!
Wikia is a free-to-use site that makes money from advertising. We have a modified experience for viewers using ad blockers

Wikia is not accessible if you've made further modifications. Remove the custom ad blocker rule(s) and the page will load as expected.