Route 18 (Japanese: 18ばんどうろ Route 18) is a route located in the eastern section of Hora. It is an east-west route, with it's eastern terminus located at Route 17 and it's north-western terminus is at Watsonia City.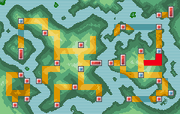 Route Description
Edit
Route 18 is very much like Route 17. Farm country. However, it is less populated than Route 17, however, with more Pokémon inhabiting the area. Like Route 17, Route 18 is a semi-civilized route, the area being forested, but a road slithers through and houses decorate the route.
External Links
Edit
Ad blocker interference detected!
Wikia is a free-to-use site that makes money from advertising. We have a modified experience for viewers using ad blockers

Wikia is not accessible if you've made further modifications. Remove the custom ad blocker rule(s) and the page will load as expected.