Route 20 (Japanese: 20ばんどうろ Route 20) is a route located in the western section of the Hora Region. Despite coming after Route 14 on the west and Route 7 on the east, it is numbered much higher than them. It's north-eastern terminus is at Phlox Town and it's western terminus is at Diadem City.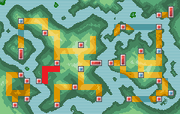 Route Description
Edit
Route 20 seems to be a mixture of both Route 7 and 14. A sandstorm still continues to rage through here, making battles difficult. It has paved roads throughout the whole stretch out route, as well as street lamps and park benches. Grass outlines the sides of the roads, meaning trainers must go off road to catch Pokémon. Trees on this route can be headbutted. There are several small pond-side lakes throughout the route.
Sandshrew
Phanpy
Sandile (rare)
Cacnea (rare)
Nidoran♂
Nidoran♀
Bodies of Water
Edit
Magikarp
Goldeen
Feebass (very rare)
Psyduck
Stunfisk
Tympole
Aipom
Pineco
Foretress
Pinsir
Hoothoot
Pidgey
Starly
Weedle
Kakuna
Beedrill
External Links
Edit
Ad blocker interference detected!
Wikia is a free-to-use site that makes money from advertising. We have a modified experience for viewers using ad blockers

Wikia is not accessible if you've made further modifications. Remove the custom ad blocker rule(s) and the page will load as expected.