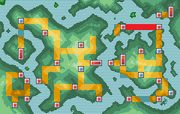 Route 21 (Japanese: 21ばんどうろ Route 21) is a route located in the eastern half of Hora. It is a water-route, so it requires a Trainer to either Surf across it, or catch a ferry, thought there are some Swimmers in this route, who swim from Dahlia City to Aster Town. Lorraine from Safflower City visits this Route often, trying to capture a Dratini.
Route Description
Edit
Route 21 is a nearly straight path from Dahlia City to Aster Town, completely covered by water. Some say it used to be a forest until a flood struck, completely submerging the area. The water level is high, and there are many places than be dived down into to search for both treasure and Pokémon. A colony of Dratini is said to live under the waters of this Route. Lapras are also known to migrate through this Route.
Dratini (rare, only underwater or by fishing)
Magikarp
Remoraid
Lapras
External Links
Edit
Ad blocker interference detected!
Wikia is a free-to-use site that makes money from advertising. We have a modified experience for viewers using ad blockers

Wikia is not accessible if you've made further modifications. Remove the custom ad blocker rule(s) and the page will load as expected.