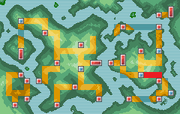 Route 22 is a route stretching from Tuberose Town, in the west, to Willow Town, in the east.
Route Description
Edit
The sun constantly beats down hard on this route, especially in the summer time, giving it a tropical climate. The grass is also unusually tall in this area. Pokémon that are commonly found in herds, such as Tauros or Miltank can be found on this route.
External links
Edit
Ad blocker interference detected!
Wikia is a free-to-use site that makes money from advertising. We have a modified experience for viewers using ad blockers

Wikia is not accessible if you've made further modifications. Remove the custom ad blocker rule(s) and the page will load as expected.