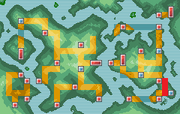 Route 23 is a route that covers the area between Willow Town in the north, and Scarlet Town in the south.
Route Description
Edit
Route 23 is a mountainside route that overlooks the sea. Few travelers opt to take on this route by foot due to the treacherous terrain and powerful Pokémon that can be found here, opting instead to take a short plane ride to Speedwell Town.
External links
Edit
Ad blocker interference detected!
Wikia is a free-to-use site that makes money from advertising. We have a modified experience for viewers using ad blockers

Wikia is not accessible if you've made further modifications. Remove the custom ad blocker rule(s) and the page will load as expected.