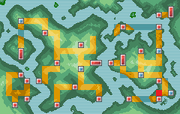 Route 24 is by far the shortest route in all of Hora. It connects Route 23 with Amethest Town.
Route Description
Edit
Like Route 23, Route 24 is mountainous, but not nearly as trecherous as the route before it. It is a famous training area for trainers that have advanced far in the Hora League, and is thus a very common spot for Pokémon battles. This is also the reason there are so few wild Pokémon in the area, save for some of the tough Rock-types.
External Links
Edit
Ad blocker interference detected!
Wikia is a free-to-use site that makes money from advertising. We have a modified experience for viewers using ad blockers

Wikia is not accessible if you've made further modifications. Remove the custom ad blocker rule(s) and the page will load as expected.