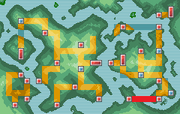 Route 25 is the final numerical route in the Hora region. It is a mostly oceanic route connecting Amethest Town to the Ancient Tower on Willow Island.
Route Description
Edit
The route is mostly ocean, however, like most routes of its nature in the Hora region, it can be transversed in two ways; by boat from either terminus, or by use of the move Surf. It is a "road less traveled" route because there are no Pokémon Gyms around it to make it needable. Most trainers bypass this area of Hora altogether. The ones that do come, however, often come due to the legends of legendary Pokémon that visit the surround towns of Strawflower and Willow.
External Links
Edit
Ad blocker interference detected!
Wikia is a free-to-use site that makes money from advertising. We have a modified experience for viewers using ad blockers

Wikia is not accessible if you've made further modifications. Remove the custom ad blocker rule(s) and the page will load as expected.