Route 3 (Japanese: 3ばんどうろ Route 3) is a rocky route in Hora. Its western terminus is at Freesia Town and it's south-eastern terminus is at Lumex City. This route is blocked when the player first reaches it.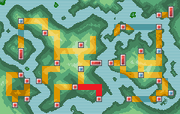 Route Description
Edit
Route 3 is shown to be a route resembling a street. The road is paved, and many people are either running or skating through it. Due to this, only urban Pokémon can be caught on this route, and it functions like a cave, with Pokémon appearing at random.
Pidove
Meowth
Abra
Koffing
Ralts (uncommon)
Voltorb
Ditto (uncommon)
Eevee (rare)
External Links
Edit
Ad blocker interference detected!
Wikia is a free-to-use site that makes money from advertising. We have a modified experience for viewers using ad blockers

Wikia is not accessible if you've made further modifications. Remove the custom ad blocker rule(s) and the page will load as expected.