Route 6 (Japanese: 6 ばんどうろ Route 6) is an east-west Route located in western Hora. It is a rather sandy, rocky route, though it still has a few patches of grass. Located on this Route is the entrance to the Dark Crag.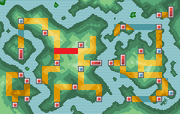 Route Description
Edit
Coming west from Route 5, the trainer will reach this parched route. The route is lined with hills and rocks, and a near constant sandstorm blows through the area. After walking a few paces, the trainer must walk south and then conintue west until they come across the entrance to the Dark Crag.
Sandshrew
Sandslash (rare)
Nidoran♂
Nidoran♀
Geodude
Phanpy
Cubone
External Links
Edit
Ad blocker interference detected!
Wikia is a free-to-use site that makes money from advertising. We have a modified experience for viewers using ad blockers

Wikia is not accessible if you've made further modifications. Remove the custom ad blocker rule(s) and the page will load as expected.