Route 8 (Japanese: 8ばんどうろ Route 8) is a north-south route located in western Hora. It is one of the three routes to house the Dark Crag, along with routes 6 and 7. It, however, is vastly different from it's "counterparts" as it snows constantly here.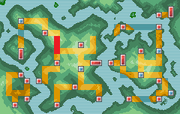 Route Description
Edit
Route 8 is plagued by near constant snowfall. Pokemon are known to hide in the snow, and this route is home to many kinds of Pokémon that can only be found here.
Swinub
Snover
Delibird
Glaceon (very rare)
Sneasel
Snorunt
Glalie (rare)
External Links
Edit
Ad blocker interference detected!
Wikia is a free-to-use site that makes money from advertising. We have a modified experience for viewers using ad blockers

Wikia is not accessible if you've made further modifications. Remove the custom ad blocker rule(s) and the page will load as expected.