This article, Lily, is property of Ash9876.
"I'm off! Now, to show the world that females aren't just Coordinators, but Trainers as well! Watch me win!"
—Lily's goal
Lily (小百合 Sayuri) is a recently emerging Pokémon Trainer who wishes to become the Champion of the Hora League. She meets Ashton Hawthorne in Encounters! Buizel and Sneasel. and since then, has been his travelling partner. She caught her own starter, Sneasel by borrowing her father's own Vibrava.
Appearance
Edit
Personality
Edit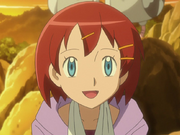 In the Games
Edit
On the Wiki
Edit
Equipment
Edit
Behind the Scenes
Edit
Ad blocker interference detected!
Wikia is a free-to-use site that makes money from advertising. We have a modified experience for viewers using ad blockers

Wikia is not accessible if you've made further modifications. Remove the custom ad blocker rule(s) and the page will load as expected.